halloween light Show
we are more than just a christmas light show!
When Bluebonnet Lights first started, the Halloween show was just a test to make sure all the parts were working. Since then, we've added props unique to Halloween and turned it into a destination for trick-or-treating. The number of visitors (counted by number of treats given) went up dramatically after the Halloween show was announced, with as many as 200 when Halloween is on a weekend with good weather.
Part of the Bluebonnet Lights display is candlesticks, color changing lights, and spotlights on the lawn decorations. Candlesticks are just as appropriate for Halloween as Christmas, and the color changing lights are easily changed from red and green to orange and spooky purple.
Unique to Halloween are lighted (and synchronized) pumpkins, ghosts, fog machines, and life-size witch, stirring a cauldron.
The music has spooky thunder and lightning effects, as well as popular tunes such as Monster Mash, Ghostbusters, The Addams Family, and more.
Currently, the Halloween show is synchronized with 2 neighborhood houses with plans to expand to other houses in the near future!
The Halloween light show usually starts the last week of October, with the full effects, including fog, added on Halloween night or the weekend before.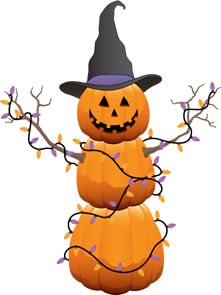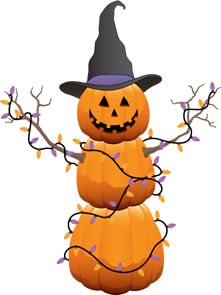 HALLOWEEN Fun At Bluebonnet Lights.Com!