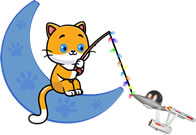 Bluebonnet lights is the brainchild of a Silicon Valley tech 'geek' with a passion for DIY (do-it-yourself) projects.
After viewing the internet sensation, "Wizard in Winter" Christmas Light Show" Video in 2006, of a residential home decorated with Christmas lights that flashed to music, Mr. DYI decided this was a project right up his alley.
After a ton of research, talking to co-workers, joining discussion groups, purchasing discounted after-Christmas lights, Mr. DYI had enough for proof of concept. 2 neighbors immediately joined and in 2007, bluebonnet lights was born.
Today, there are 6 neighborhood light displays that are wirelessly synchronized to the bluebonnet lights' master controller. So, when the music rolls, all 6 homes' lighting flash and dance to the beat!
Bluebonnet Lights has also expanded to Halloween Lights with 2 families participating with more aniticpated join very soon.
Stop by
Bluebonnet Lights
and Enjoy Our Show!
Drive or walk to 955-976 block of Bluebonnet Drive in Sunnyvale
and experience Our Neightborhood synchronized festive lightshow!